Rakim & Ghostface Killah with Brother Ali
Mezzanine
San Francisco
11-2-07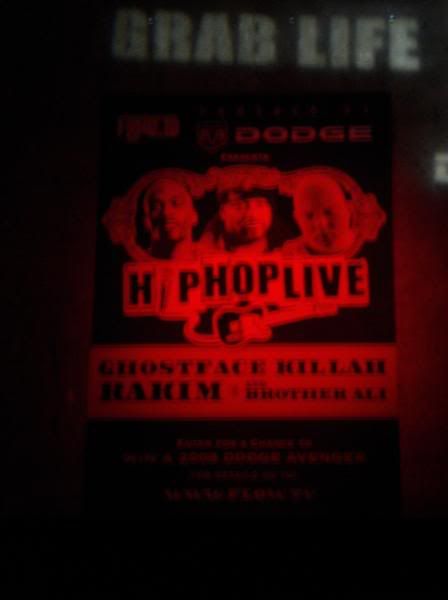 Oh, get hype. Get mad hype for this line-up.

First up, Brother Ali, an albino Muslim from Minneapolis via Madison, Wisconsin who was recently written up in Rolling stone of all publications and totally rips on the mic, warmed the crowd with his stylish flow and wit.


Then, Ghostface aka Pretty Tony aka Tony Starks aka Iron Man got on stage and held mad sway over the Mezzanine crowd.



And lest I forget to mention the backing band, The Rhythm Roots All Stars, funked the joint up on more than one occasion, providing apt segues between headliners.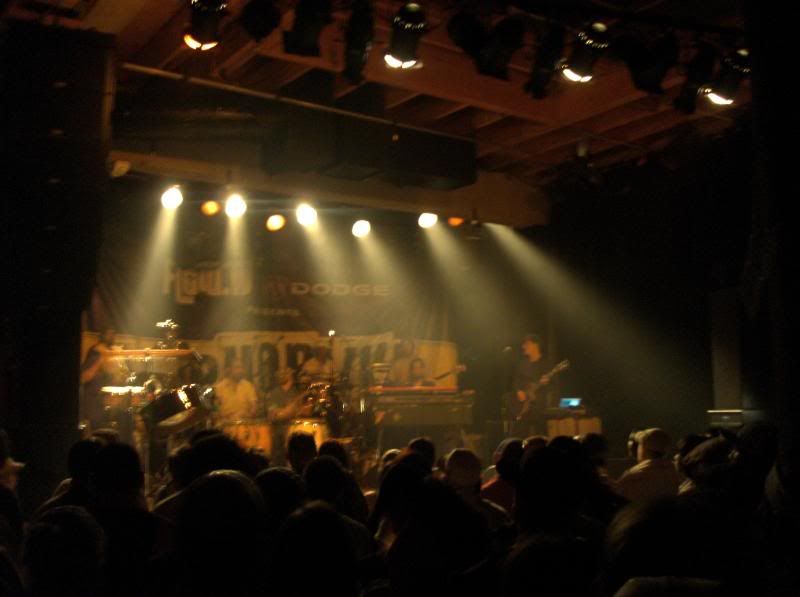 Here's Dave and Myrna. We kicked it upstairs most of the night, among the VIPs...



...who received this kind of treatment, which is mad trill, yo.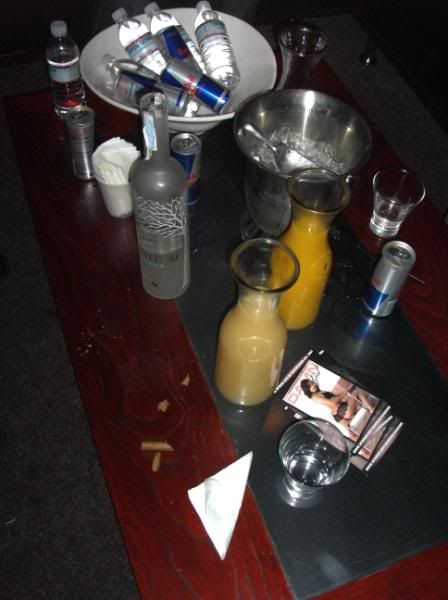 Then, the moment the crowd was waiting for, the moment I've been waiting for since I was a pimply-faced pre-teen up in my bedroom with

Paid In Full

and

Follow The Leader

(on cassette, bootlegs, bought underneath the City Hall train station, Philly, circa 1988...)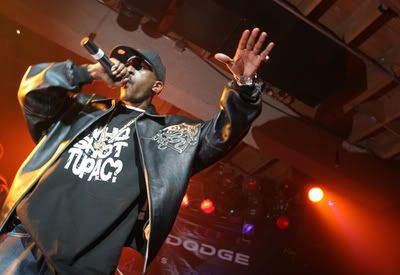 It's good to be king. All hail Rakim...

...on to the next show.




Stars
Bimbo's 365 Club
11-13-07
setlist:

The Beginning After The End
Take Me To The Riot
Set Yourself On Fire
Elevator Love Letter
The Ghost Of Genova Heights
Bitches In Tokyo
One More Night
Personal
Look Up
Midnight Coward
Window Bird
Soft Revolution
Sleep Tonight
Reunion
Your Ex-Lover Is Dead
Ageless Beauty
In Our Bedroom After The War

Encore:
The Night Starts Here
Favorite Book
What I'm Trying To Say
Calendar Girl
Barricade

Okay, Stars is about as theatric as a band can get without being camp. That's not an insult, but Stars is definitely one of those bands that I've discovered people love to hate. For me, I love them because they so narrowly walk that line between heartfelt and cheesy that the uninitiated may be a bit uncomfortable by Torq and Amy's lyrics. I've watched as someone close to me squirmed while listening to One More Night, I guess the lyrics in there were too real, or maybe that person was going through something in their life that was upset by that song. That to me is the mark of great music, there's been times I hated the singer for telling me what was happening to me.

Anyway, this show was special. My shitty camera decided not to work, so no pics.