Since I always seem to include an apology for either my
a)
ignorant and thoughtless previous stances towards a band's body of work (

Bright Eyes

&

Modest Mouse

, again: I'm sorry!) or my
b)
lack of professionalism by not doing reviews in a timely manner (this album is six weeks old), I must say this: this album came out at the same week as both my beloved

Arcade Fire

and

Explosions In The Sky

, also

Air

's

Pocket Symphony

and a week before

LCD Soundsystem

. I'm really sorry

!!!

got squeezed out. Next year, I'll review them before anyone else. Unless they put an album out the same week as

Radiohead

or

Moz

, then I reneg this promise.
!!!

-

Myth Takes

(Warp Records, released 3/6)
Dance-punk's finest outfit come back with one of the most supreme offerings of the year, blistering listeners' eardrums with popping basslines and some of the most heavily dance-able grooves since

Sly

got his family

Stoned

. Okay now- don't flame me because I'm close to 6 weeks late with this review, actually, most of it was finished shortly after its intended due date. But I got caught up in the michigoss of apartment hunting and a brief lapse into the nether regions of the soul (the details of which are pretty inconsequential, I'll just say that California has highly potent and very available cheap weed. Hell- it's practically legal out here...) that I kept putting it off until I got sick this week and couldn't venture much outside the confines of my bedroom. So I'm finishing this intro to the review, which is how I usually work it.

Backwards, ass backwards.
The album starts with the title track, and in actuality it starts out like it's already halfway through the song, slinking its way along to a snarky little bassline, working its way up and down the spine of the song.

Nic Offer

's vocals likewise bob along on top of the track, mimicking the tune's creepiness.

All My Heroes Are Weirdos

is something more comfortable to

!!!

's regualr modus operandi, those call-and-response dance hall jams with a tempo that forces you to dance dance dance at 120 bpm. Likewise

Must Be The Moon

, the

"I'm too cool for this party"

jam, reminiscent of a late-70's

George Clinton P-Funk

banger.
Digression from review:

!!!

is pronounced

Chk Chk Chk

, but I'm sure you knew that at least, right? Anyway, that name is a total misnomer- I saw these guys last year, and there weren't a whole lot of chick chick chick at all, they should call them selves dude dude dude. For real. Okay, back to the article...
A New Name

recalls all those synth-funk disco tracks from

Time-Life's

Sounds Of The 70s

collections relentlessly hawked on late-night infomercials. That's not necessarily a dis- it's riff heavy, both vocally and musically- think

Nile Rodgers

and

Chic

, and at the same time smooth, like

Earth, Wind & Fire

.

Heart Of Hearts

goes back to the same-old, tried and true formula

!!!

has relied on for both

Louden Up Now

and their eponymous debut in 2001, except making itself uber-updated and dance friendly by adding female vocals, courtesy of

Shannon Funchess

- and those lovely little stop-start jams only

!!!

can pull off- it's really something to see these guys live: stopping on the drop of a dime, freezing, waiting a beat and then- BAM! all coming back in together, right where they left off.
A rock song?

Sweet Life

is the closest I've ever heard

chk chk chk

coming to an actual guitar-driven rock song, and it suits the band well to break the album in half- maybe signaling a turn in stylistic musing for these self-made party-monsters? The winds of change blow us into

Yadnus

, with its rah-rah-sis-boom-bah drum pattern and squonky synth-driven lead, sort of like what I imagine the texture of Gumby to be. Would

Gumby

even have a texture?

(He's claymation for Christ's sake!)

Anyway, it's nice to see

!!!

focus on structure here, a lot of their older stuff focus on 10 minute-plus ecstasy-excursions, and there's only one song over 8 minutes, the album's best jam,

Bend Over Beethoven

. In fact, if Beethoven were alive to see what

!!!

was doing with funk grooves like this, he'd shit in his hat and eat it for lunch. When I say hot damn, believe you me that

Bend Over Beethoven

just plain brings it.
Which brings me to: my first nomination for

Song Of The Year, 2007

. Come midway point of the year, sometime in June, I'll throw my top-ten songs out into the fray and we can jump all over them, but pound for pound,

Bend Over

is my jam of the year, so far*, and here's why: at 8:06, not one second is even remotely boring. Every instrument is doing double duty, all harmonizing into a frenzy of funk, an unstoppable F5 tornado of groove that eventually resolves itself back to the chorus and a perfect segue into

Break In Case Of Anything

, where the horn section is finally showcased for what it is: awesome. I love when bands

"bottom-load"

their albums, putting the best tracks towards the end. It's basically a

"here's what we go out on, you fucking know you want some more of this..."

and I, the respective listener, am eating out of the palm of their hand. All sycophantism aside, this may be the best dance album ever made. I couldn't imagine going to a club/party and not hearing at least one of these tracks.
The album ends on melancholy, piano tinged

Infinifold

, which forces me to reiterate that

!!!

must be taken seriously from now on- they're not simply that

"let's take a bunch of

E and dance our asses off, all night long!" band, much like

Oingo Boingo

was in perennial 80s-favorite movie

Back To School

. This is a much more forward thinking album than what I expected from

!!!

, and I hope they release either a live album or another set of remixes very shortly, this album can only whet my appetite for so long.
Overall rating: 93
* - I wrote this part of the review back on March 9th.
Do Make Say Think

-

You, You're A History In Rust

(Constellation Records, released 2/27)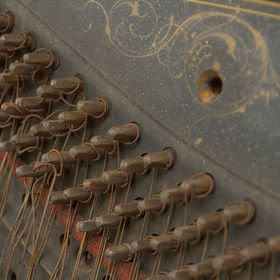 If post-rock is considered an "official" genre, then Toronto's

Do Make Say Think

is at or near the top of their game. Be forewarned that I'm an unabashed cheerleader for

Explosions In The Sky

, and if they're the pinnacle of excellence in said genre, than

DMST

is their milder, easy going little brother. I have a bunch of "sleep" records, you know, albums that you fall asleep to, and their 2002 offering,

&Yet&Yet

, is one of them. Unfamiliar with

Do Make Say Think

's body of work? They're somewhere between classic rock and modern jazz, balancing themselves between light melodies while capturing a dark and brooding moodiness.
This being said, let's get on with an actual review, shall we?
Bound To Be That Way

, the album's introductory track, starts with a lo-fi and jazzy drum beat which fades back into a piano-woodwind-brass-guitar section, which sounds a lot like an orchestra quieting itself down while waiting for the maestro's cue. But then, at a little over two minutes, the song begins; all instruments in perfect harmony- engaging simultaneously in a beautiful melody, structured around a ferocious but refined arrangement. So okay, I've complained in the past that "it's pretty hard to review an instrumental album", which is really a cop-out that needs to be addressed, mainly for the following reasons-

One:

instrumental music conveys just as much emotion as music that contains lyrics; and reason

Two:

there are lyrics on this album- so there's always a first time for everything. Except the band doesn't lend their own vocal stylings to the album's second track,

A With Living

- apparently it's freaksters

Akron/Family

singing here. Nevertheless, it was definitely weird to hear singing on a

DMST

album, so I apologize for ever saying that it's tough to review an instrumental album, which this isn't. Not completely.
Then there's

The Universe!

, a bonafide stomper that leans more towards an actual rock song, eschewing the post-rock formula of using the guitar as a background instrument and just laying down chunky riff after riff, over a rolling drum with synth atmospherics. And speaking of atmosphere,

A Tender History In Rust

, the album's

piece de resistance

, is full of ambient texures at the outset but leads itself into a beautiful arrangement of acoustic guitar, strings, whistling and

"barely there"

vocals.
As melodies abound all throughout the album, there's also those lightly vocalized oohs and ahhs, recorded sound clips of children at a playground, embellished pleas of softened aggression, all the while awash in reverb and delay.

Herstory Of Glory

attacks the ears with a thorough and purely rhythmic driven sensibility- again, relying on a rock-and-roll approach.

You, You're Awesome

is almost a counterpoint to

Herstory

, placed after that driving and relentless track to confound the listener and to showcase that no style is off limits for

DMST

. Almost a funeral march,

Awesome

delivers more emotion in its three-and-a-half minutes than some albums can do in 45 minutes. And there's not a single word in this song.
While

DMST

's main influences may lie rooted in free-form jazz and classic rock, what sets them apart from the more popular (or accessible) acts is that they are largely experimental. Bands like

Tortoise

and

Sea And Cake

use tried-and-true formulas, giving them a much broader fan base.

Do Make

goes way out on a limb by eschewing any association to the "mainstream" by placing a different focus on sound, for example:

sound as color

, a concept frequently discussed by Caleb Gattegno.

Executioner Blues

relies more on a loping or circular brush stroke here, getting the canvas all mussed-up but conveying the message without the use of words, settling back into a very similar death march recounted in

You, You're Awesome

, but much more morose and brooding. The album's closer,

In Mind

, with its hi-hat, guitar and banjo interplay takes your mind off the subject and almost causes you to miss the trumpet snaking its way into the mix, eventually giving way to a train-like snare and more vocals, distorted to an almost undecipherability and melting away in a wash of static, leaving only the banjo at the end.
All in all, an excellent album- only to be listened to from start to finish, each song in context to the next. And as an album, each song stands alone as nothing; but together, as eight- an excellent album.
Overall rating: 88
Andrew Bird

-

Armchair Apocrypha

(Fat Possum Records, released 3-20-07)
You may know

Andrew Bird

as the violinist extraordinaire who has honed his chops while on tour with the likes of

Ani DiFranco

and as a session man for swing-revivalists

Squirrel Nut Zippers

(remember them?), but as a soloist,

Bird

has been hard to peg. Perhaps he has created his own genre as much as he's left an imprint on whatever category he's been tagged with at each album's release. Seven albums, all different in their own right, all exploring avenues that most others (except obvious comparisons to

Sufjan

) would rightfully ignore.
The Mysterious Production Of Eggs

,

Bird

's 2005 offering, was one of my favorites of the last few years, frequently trying to catch a sunset here or there as it plays in the background or ushering me home in serene comfort, when out much too late at night. Which comes to mind when seeing the title of his newest album- pertaining to the Apocrypha, one of the disputed books of the Old Testament and the adjective apocryphal; of doubtful authorship or authenticity. Is this

Bird

's "is there a god?" album? His

Dark Side Of The Moon

for the post-9/11 indie set? Oh,

Mr. Bird

... I feel now that I must psychoanalyze you now, for you are repressed somehow and God must be the one who feels your wrath, but alas, he never answers...
So, here goes my line of questioning, song-by-song:
Fiery Crash

- a premonition of a plane crash in

Bird

's future? Does future fame entail more rides in jets for this singer-songwriter, raising his odds for impending doom? Or will he be the only one spared, a la

Jeff Bridges

in that movie

Fearless

?
Imitosis

- strings and Playskool glockenspiels at play here; and

Bird

's neurosis extends all the way down intoa cellular level. Is he beckoning the sorrow of a self-fulfilling prophecy,

"we are all basically alone, despite what all of your studies have shown.."

relating his mitochondrial oxidative phosphorylation to the plight of modern man?
Heretics

- a very similar string line as

Nervous Tic Motion Of The Head To The Left

.

"Did I hear you say 'Thank god it's fatal'?

That may be the most disturbing (or refreshing) line on the album...
Dark Matter

- a familiar whistling intro, of which

Mr. Bird

has both a talent and fondness for; and crying out into the night

"where's the dark matter?"

over and over. Exercise demons or run them in a marathon, shall we?
Plasticities

- strings and theremins "you're gonna grow old, you're gonna grow cold..." Ah, the innocence of youth.
Armchairs

- starts with an orchestral mess leading into a plaintive guitar riff, which heads into a darker territory. Lyrically, it's a dark and stark mood here, please don't try to stop

Andrew Bird

. He's on a downward spiral, you shant relate to his pain now. And more crying out into the night:

"Time's a crooked bow..."

, just as he settles himself, no, sturdies himself to exclaim (as the music crescendos to an explosive peak now),

"...you didn't write, you didn't call, it didn't cross your mind at all."
Simple X

- a new direction for the

Bird

-man; hip hoppy break beats under that spooky theremin, which is getting a lot of use on this album. He stretches his voice to mimic the ancient Russian electromagnetic instrument, somewhere between

Tiny Tim

and

Antony

(of the

Johnsons

...)
The Supine

- just a short break here, instrumental, possibly setting the tone for...
Cataracts

- this sounds like

Mr. Bird

has accepted his fate, he's leading headlong into harm, and he can't stop now if he tried. Like a man walking to the gallows, he's neither repentant or fazed, he's going to die and that's that. It's actually the most beautiful song on the album.
Scythian Empire

- Macedonian kings and something something...
Spare-Ohs

-

"Finches and sparrows build nests and watch o'er me, what remains of small flightless birds you failed to protect..."

Oh, now I see- the album cover should've tipped me off. You're talking about

birds

,

Bird

! It's like it all makes sense as I hear you sing this line now.
Yawny At The Apocalypse

- Blah blah blah blah, and yes- I'm tired, too.
Basically, a half-assed review of a half-assed attempt at an album. I'm very disappointed in you

Andrew

- you were supposed to make an awesome album to follow up a previously awesome effort. The best thing that can be said is the one thing you can do so well is these moments of ephemera that are absolutely sublime, but you fail to sustain it over the length of the record. I'm trying to be nice here with this rating, but I took into account too much the grandiosity and near-perfection of

The Mysterious Production Of Eggs

. If it's any consolation to you, everyone else loved your album, even Entertainment Weekly!
Overall rating: 69
Next post:

Laura Veirs

'

Saltbreakers

,

Dntel

's

Dumb Luck

,

Charlotte Gainsbourg

's

555

, and

Arctic Monkey

's

Favourite Worst Nightmare

. Not all at once, slowly- over the course of the week. I suppose...