...and there's also some argon and carbon dioxide in that mixture, but hey, it keeps us alive, right?

I'm sure if I had to write a review on air I'd find something wrong with that, too. It might go something like this: the air in the

Rocky Mountains

smells sweet and light, whereas

New York City

air in the summer time smells like liquid garbage and really bad body odor. I'm giving air an

overall rating of 88

.

Then I'd surely go on to review water and then soil.



But music, that's what I do:



Air- Pocket Symphony (Astralwerks, released 3/6/07)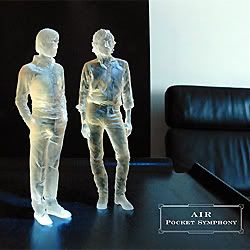 When a great chef makes a new dish, do they do it because they love the labor that goes into the art of cooking, or do they do it to see their diner's reaction? Like two great cooks,

Air

's

Jean-Benoit Dunckel

and

Nicolas Godin

serve up some new fare which can be described as silky and smooth, light and creamy, with just a hint of trip-hop-adelica. But mostly it's flaky and crisp around the edges, let's dive into the center, shall we?


As if there was anything else you'd expect from the masters of the chill out game, (I'll give them that title at least until

Portishead

gets back to us later this year...)

Air

comes at you with a subtle variety of textures- those sultry and always sexy female vocals, excellent production values a la

Nigel Godrich

(the

"sixth"

member of

Radiohead

), vocals from

Pulp

's

Jarvis Cocker

, new instruments (

Godin

learned how to play both the koto or Japanese floor harp and the shamisen from a master in Okinawa), and of course all those smooth down-tempo rhythms combined masterfully with sweet pop sensibilities abound over the course of the album.


Since I'm big on comparing artists to themselves (and I've already compared

Air

to another band already), I'm not going to do that here- you may be wondering where this album stands up in their body of work, and I'm going to leave my opinion out of this review on that subject. It wouldn't be fair to compare this to

Moon Safari

, (their magnum opus) but then again, it would be fair to compare this to

10,000 Hz Legend

(creative doubt?). I'll leave that aside

(in a passive-aggressive sort of way)

and just get to the meat and potatoes of

Pocket Symphony

.
It's a more relaxed, hushed album overall, playing very well in the wee hours of the morn after a night out of sensory-overloaded debauchery, serving to center one's mindset in a Zen-like quiesence. Acoustic guitars, Japanese strings, and much less beat heavy than previous contributions, the French duo happens upon a personal and pensive posture- the title implies that you can in fact bring this symphony along in your pocket, a prix fixe for the iPod set.


Highlights of this album include:

Mer Du Japon
(en francais),
or Sea Of Japan, one of the few songs that relies on driving bass and drum with a mid-song breakdown of wave sounds instead of a bridge, which to me is ironic- instead of going over an actual bridge, you get the sound of what's under it. Maybe I'm digging to hard, but

iTunes

has informed me that I've listened to this album 7 times in the last three weeks. I live with albums, they bend my psyche and become a part of my collective reality. And in turn I look too hard for the meaning in them.




Space Maker

, the opener, picks up exactly where

Air

left off on

Talkie-Walkie

- trip-hoppy beats over synth washes and acoustic guitars, with an excellent breakdown: a familiar and comfortable bass and piano line which leads directly into

Once Upon A Time

, a revolving and steady piano and cymbal hit, and lovely vocals before the drums enter:

"I'm a little boy, you'e a little girl, once upon a time..."

And

Left Bank

, another acoustically driven number with no drums, could pass itself off as an

Elliott Smith

song, and

Somewhere Between Waking And Sleeping

lends its dreamy melody to a latter-day

Nick Drake

psych-folk excursion.


The songs are here, the production is remarkable as always, and thematically

Pocket Symphony

sticks to its intended point, but

(here comes the knock)

this album will surely only serve in this capacity: the

late night, chill-out, let's get ready for bed

album. It's not an album I could listen to while driving, not an album for a late-afternoon pick me up. This is

Air

, and that's pretty much what they do, and do it so well, but how many albums do I need to bring me into slumberland? Where

Moon Safari

and

Premiers Symptomes

serve that purpose, I'd rather listen to those than this.


I also said I wasn't going to compare

Pocket Symphony

to the rest of their back catalog, seeing how this is basically a

leitmotif

of the sum and scope of

Air

's body of work, I'm only going to throw down an average score for this album.
Overall rating: 81



Coming Up:


Minus The Bear
Do Make Say Think
!!!
LCD Soundsystem