...with Jonathan Richman
The San Francisco Palace Of Fine Arts
November 1st, 2007



I keep lucking out. Is every venue in San Francisco absolutely amazing or what? Except for Bill Graham and his damn "civic auditorium", I can't really say that my concert going experience in this city has been anything less than completely awesome. And I'm not just saying "awesome", I am actually filled with awe (and wonder) at the beauty of the concert halls here. I guess some cities just don't fuck around with music...

Anyway, The Palace Of Fine Arts is actually a
1,000 seat
theatre* in the Marina district. It's kind of like a museum inside.

Jonathan Richman

killed it. Here's all I know of

JR

; I have that one album with

The Modern Lovers

, the one with

Roadrunner

that is considered along with

Iggy and The Stooges

and

MC5

as "proto-punk" or the beginnings of punk rock. I also know my homie

Jens Lekman

is a huge fan of his.

Tonight, he was comedic, thoughtful, pensive, hilarious, awkward, and played some really nice little Flamenco licks on his classical guitar.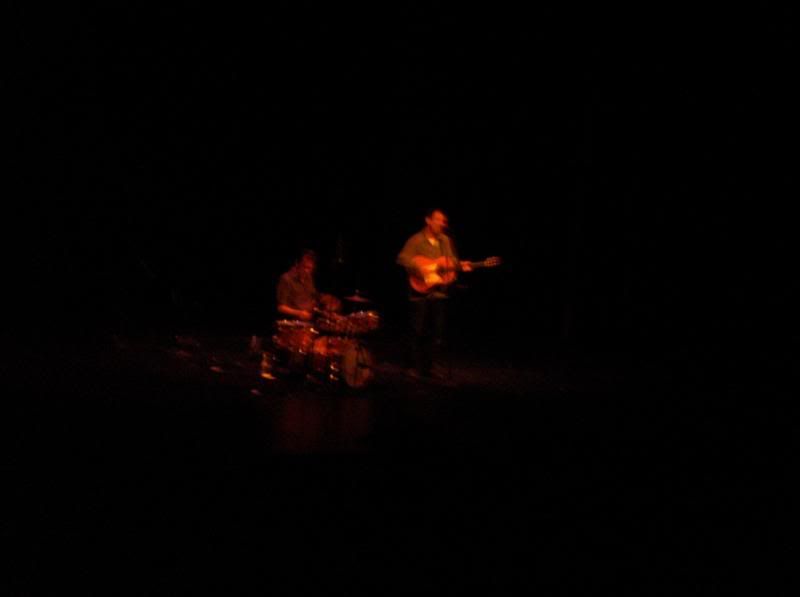 The main event:

YLT

. So basically, I was unaware that they were doing this "Freewheeling" thing where they take questions and requests from members of the audience. It was the most interactive I've ever seen a band. Even more than

Phish

, what with all their gimmicks and tricks that got the phans super-involved almost every show,

YLT

was on a different level, reveling in the spotlight and more entertaining than any movie I've ever seen (not to mention it was worth way more that the $30 I paid for this experience).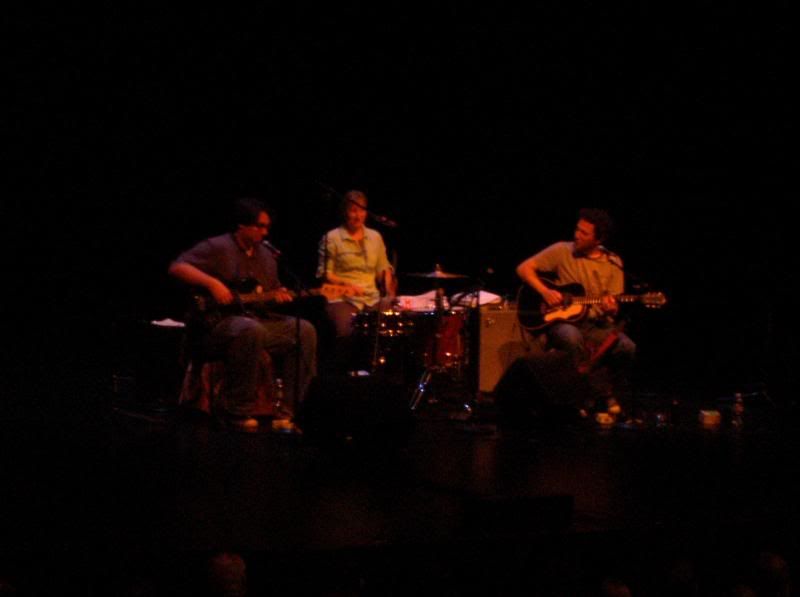 So in between every other song or so, the house lights come up and there's a 5 minute impromptu question and answer session, then a few requests were fielded and

YLT

would try to figure out what to play from those requests. It was super cool, they were all over the place, talking about the Mets' and baseball one minute, The Simpsons and Troy McClure the next, talking smack on San Francisco for only

one

show (LA's getting three, "read it and weep!"), their experiences on this tour, et cetera.


setlist:
Madeline
Mr. Tough
Q & A
My Little Corner of The World
Q & A
Black Flowers
Q & A
Little Honda
Speedy Motorcycle (Daniel Johnston song)
Q & A
Raw Power (Iggy & The Stooges' song)
Q & A
Let's Save Tony Orlando's House
Q & A
Gee, The Moon Is Shining Bright (Dixie Cups' song)
Q & A
Autumn Sweater
? (Zombies' song)
Q & A
Drug Test
? (Kinks' song)
Q & A
When U Were Mine (Prince song)
?

Encore:
Did I Tell You
?

Sorry for the holes in that setlist. I did my best, I'm not a long-time fan of

YLT

. Funny story how

Yo La Tengo

discovered me: so apparently they allow people to tape their shows and trade tapes around, much like a band previously mentioned earlier in this article. (I'm not writing their name again, therefore I'm not going to let them hijack this essay). So I found them on a tape trading list, downloaded a show and I've been a fan ever since. I recommend getting

The Sounds Of Science

live if you can, it's pretty amazing.

Okay, peace out.

* - I spell it the olde English way.