Clap Your Hands Say Yeah- Some Loud Thunder (self-released on 1/30/07)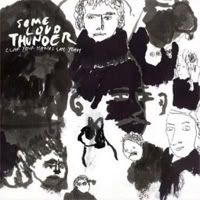 "All this talking, you think I'd have something to say. But I'm just talking- like a siren getting louder and farther away..."

Well, I thought you'd have something new to say, and you do, it's just that you say it exactly the same way on the debut album. Just like that siren's wail. But you follow up that opening line with a warning:

"From the energetic kids in the park, yes that was me breaking glass and pretending to start something big, some new taste."

It's as if somewhere between drives from Philly to Brooklyn, lead singer/songwriter

Alec Ounsworth

must've had a bout of both extreme self-awareness and self-deprecation.
So it's not what I expected from these self-made darlings of the blogosphere. Actually, it's pretty much exactly what I'd expect from

CYHSY

, and maybe that's part of my disappointment.
But keep listening to the album for

Love Song No. 7

, offered from the band's website in December, and it appears that this song may the first to break, if ever so slightly, from

CYHSY

's tried-and true formula. I never wanted to use the term "blogosphere" ever, but it seems somewhere between Pitchfork and, let's say-

all of the indie music world in 2005, Clap Your Hands Say Yeah

were destined for stardom, and it owes everything to that faux vis-a-vis conduit of internet communication, the

blog

. So, a dis here, some praise there, it doesn't really matter what they say about you,

as long as it's about you!

This is how you sell albums, and all the trash-talking (and even the favorable tag-lines) helped this band out by speeding up the birthing process slightly by all the witty-but-none-too-sincere indie rock fans and their incessant blogging. And eventually it will spill itself over into the mainstream.
Getting into the mainstream has allowed

Clap Your Hands

the chance to play on-stage with the likes of both

David Bowie

and

David Byrne

(obvious comparisons aside, I had to mention here that Ounsworth sounds like a pitch-perfect Byrne impersonator, and that should be taken as an absolute compliment...) and even

Ringo Starr

blogged on his website about this band

(does everyone in the world have a blog? They should by now...)

So has

CYHSY

made an apparent statement that they are indeed here to stay? They may have well done that, but they may have also aimed at that elusive target, trying to keep themselves at the level of cult status preferred by their core fans. They kept most of them by not signing to any label at all, deciding to once again go it alone, with some help from

Insound.com

.
Musically, it's a trip around- vaudeville pianos make an appearance in

Love Song No. 7

, the obvious choice for a first single as

Underwater (You And Me)

, a one minute harpsicord-laden jaunt,

Upon Encountering The Crippled Elephant

, channeling the

Violent Femmes

on

Arm & Hammer

, and there's even a few left-over songs that could've been on the debut (

Emily Jean Stock

and

Satan Said Dance

). That's the biggest knock I have on this album- I expected a big change stylistically and it didn't happen completely, leading me to two conclusions: one- expectations lead directly to disappointment and two- this isn't a great album, it's just a good album.
Overall rating: 83


Next week:
BLOC PARTY

A WEEKEND IN THE CITY