Okay.
I've got some ground to cover here

(as if I haven't covered enough recently? Didn't I totally just drive like 3,000 miles and shit? Dude...)

Seems I need to make up for some lost time and such, so here, I, Jimmy Mac, give you two

(2)

new reviews for early 2007.

(That sentence is so overwrought, man. Consider revising? Fine, jerk- leave it. No one is going to read it anyway...)

To stay on top of "new release Tuesda
ys" here in America, I ac
tually scour the world of the internet for release dates and whatnot, and I feverishly track all the torrent sites for bits and pieces of my favorite bands' newest products. (You're a geek

AND

you're bragging about it? Whatever man. You used to be cool...)
Don't worry, if I like the album, I end up buying it. I should probably post my rationale for "stealing"

(read: sharing!)

music, but alas, I have niether the time nor the gumption to do so right now.

(Gumption? Man, you try too hard...)

So, without any more B.S., I give you my first of many reviews for albums, concerts, etc. of this new year...
(And what's up with your conscience, deciding to make an appearance all of a sudden? Why does it feel the need to make random comments in this blog? Is this even considered remotely cool? Having a bout with yourself, eh?)
Of Montreal- Hissing Fauna, Are You The Destroyer?
(Polyvinyl, release date 1/23/07)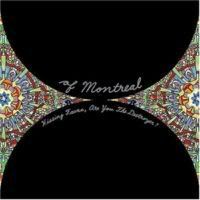 Dear Athens, Georgia, what the hell is in your water supply? And how much has

Of Montreal

been drinking? Psychedelia never sounded so good. Think the

Beach Boys

'

Pet Sounds

crossed with

The Brian Jonestown Massacre

. Except where

BJM

's

Anton Newcombe

fails,

Of Montreal

's Kevin Barnes succeeds, and succeeds with flair. Thinking backwards and borrowing from the past just as much as it thinks ahead and re-invents itself,

Hissing Fauna

's lo-fi psych-chamber folk-pop dizzily spins you in place while taking you to the far reaches of the cosmos and back again, all in the span of 51 minutes.




Suffer For Fashion

, the first track on the album, starts off with a child's singing and turns itself towards a dancy little number, with a perfect segue into some

Beatle

-esque la-la-la's to start the next track,

S
ink The Seine

. A few tracks later,

Heimdalsgate Like A Promethean Curse

, beckons the chemicals to come on and do their thing. If I can sum the album up in one line borrowed from the record itself, it's "we want our film to be beautiful, not realistic" and

Hissing Fauna

achieves this maxim. The funk of

Faberge Falls For Shuggie

hearkens back to some

Check Your Head

-era

Beastie Boys

crossed with some smooth

Steely Dan

-ish elevator soul, making for a weird, if not infinitely interesting listen.


So, it appears that

Of Montreal

is here to stay, and I thank the music gods in earnest. The effect that 2004's

Satanic Panic in the Attic

had on me, and what 2005's

The Sunlandic Twins

helped to further cement in my mind is more than merely replicated on

Hissing Fauna

, it's like the last in a trilogy that completes the circuit and gives new meaning to their entire body of work. Concept albums are one thing, but conceptual continuity is a whole 'nother thin
g, and

Of Montreal

is heading down a road that few others have, so mentioning them in the same sentence as

Frank Zappa

and

King Crimson

, two other bands that come to mind when thinking about continuing a concept over several years/albums worth of work, may be a heady concession, but I can wait and hope that's where they're going...
Overall rating: 86


The Shins- Wincing The Night Away
(SubPop, release date 1/23/07)

Going in a new direction sometimes will get you lost.

The Shins

' new album sets out in this "new" direction but manages to still embody all the elements that make The Shins, well,

The Shins

. Basically, what I mean is this: it's new without being too new. Make sense? I didn't think it would, but here's the gist- while many bands try to eschew their old sound by completely overhauling it,

Wincing The Night Away

presents a fuller, more self-realized sound without abandoning the

New Slang

slash

Pink Bullets

sound we've come to know and love.


There's a little bit more distortion and feedback on here, used wisely, but still using that tambourine-snare combo that gives it a sixties-cum-modern folk feel, emblematic of their sound. Every song is rather good, which probably made it extremely hard for the band and the label to pick

Phantom Limb

as the single. My pick would've been

Sea Legs

, starting with a hip-hop beat and finishing with an amazing "jam" that lasts a few minutes, fading out beautifully.

Split Needles

is also an amazing track, with its soaring vocals and melodies, fuzz toned guitars, stop/start drum beat, and sampled synth lines.


Written over the last year and partially recorded in his basement studio, lead singer/songwriter/guitarist

James Mercer

got married, battled insomnia and struggled with some personal issues. So lyrically, it's introspective, nostalgic and sentimental, but at the same time very forward-thinking. This will undoubtedly be on many critics year-end lists.


Look for it near the top of mine...
Overall rating: 95



(note on the rating system: Yes, it's like your high school grading system- it's out of 100. I only failed gym once, but only because I never got changed. If you're wearing sneakers, you should get credit...)



Next week:

CLAP YOUR HANDS SAY YEAH

Some Loud Thunder