Atlas Sound -

Let The Blind Lead Those Who Can See But Cannot Feel (released February 19, 2006; Kranky Records)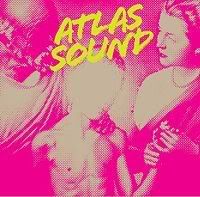 Atlas Sound

is the brainchild of

Deerhunter

's lead singer

Bradford Cox

. If you've been a reliable reader of this website, you may recall that I'm loving their two releases last year; the creepy and ambient full-length

Cryptograms

and the equally stellar

Fluorescent Grey EP

. The atmospherics on both of those records is present here, actually I'd be remiss to point out that this record is a bit more haunted.

The album starts off with a child's voice narrating, the aptly named

A Ghost Story

.

"Once upon a time there was a ghost and his name was Charlie... he was alive and then he died and he came up as a ghost..."

It gives way to a jangly and churning texture of noise as it fades to static and segues seamlessly into

Recent Bedroom
, a stark song heavy on the bass with an arpeggiated guitar line, over the top of a subtle
and
distorted
wash of another guitar with an organ somewhere in the mix. Cox's vocals get the delay treatment, as they appear within the register at different intervals. Much like

You Lies To Me

by

The Besnard Lakes

or a poor man's

My Bloody Valentine

, Atlas Sound has the psych-shoegaze-dream-
chamber
pop thing down.

Repeating

"you drown me"

over and over, the point is well taken on the third track,

River Card

. Cox's lyrics and vocals on

Quarantined

have more of a desperation, as he pleads

"I am waiting to be changed..."

,

traversing his own ahhs and ohhs through the excellent outro jam; replete with bells and xylophones, which are featured on almost every song on the album. Ruth Underwood, we miss you...

Next up is

On Guard

, with barely-there lyrics so low in the mix and so heavily delayed it sounds as if it's almost a dub-plate vocal track. As he showed us on

Cryptograms

,

Cox

has a penchant for placing "passages" in between tracks, and

On Guard

acts more or less as a passage from

Quarantined

into

Winter Vacation

. There's such an otherworldly vibe on this track, making me think that the studio where the album was recorded is indeed spooked.

The album's center of attention is the transcendent

Cold As Ice

, placed where else but the exact center of the album. It has a distinct bubbliness to it and signals the album's turn towards more upbeat rhythms while still maintaining a surreal darkness. Another perfectly executed segue into

Scraping Past

, a moody and depressed song that again has the vocals down in the middle of the mix and the bass bouncing along at the top, giving it a gothic feel not unlike a

Pornography

-era

Cure

song.

I'm at a loss for words when trying to come up with more gloomy adjectives to describe their sound, so the next track entitled

Small Horror

does it for me. Imagine being in an abandoned church as the pipe organ is being played by shadowed hands in absolute darkness. Being presented by such an eerie proposition both has me frightened and enamored of their sound, as the organ drops out to reveal a lone voice as it transitions smoothly into another passage track,

Ready Set Glow

. Sounding like a helicopter in the distance, I love it when bands employ a roto-leslie speaker effect for this purpose.

Vampiric in name,

Bite Marks

is a soundtrack for the physically abused, as

Cox

related in a recent interview:

(It's a) song about sadomasochism and boy prostitution. I kind of just took an experience I had, which I was making out with this guy and he bit me really, really hard on my shoulder, and I had bite marks that were there for like two weeks. Every time I got out of the shower, I saw them. I wrote it from the perspective of somebody who- I also remember when I was abused as a child, kids would put cigarettes out on me. This happened once on Christmas morning, and those kind of things kinda got put in there.



After Class

is an inebriating sensory experience, incorporating so many different layers and textures of sound it gives the listener a profound impression of being disoriented. What better way to chill out by taking some

Ativan

, the next track on the album. Probably the most straightforward and accessible song on

Let The Blind Lead Those Who Can See But Cannot Feel

, it's

Atlas Sound

's ode to combatively medicating away anxiety and debilitating depression.

Cox

's own despondent nature makes
his art
really heavy and
more
serious, as witnessed here.

The eventual coup de grace is the album's title track, placed last for the most obvious reasons. One being that it has a calm, sunrise feel to it, calling in to question and to challenge the great lie that depression tells its sufferers in the nebulous and lonely hours in the middle of the night:

you will always feel this way.*





Cox

and

Atlas Sound

know differently, as being in touch with your creativity is one of the ways to triumph over despair. Those who can take their pain and transform themselves
with their craft
through brilliant imagination and hard work are the reason I'm so attracted to music in the first place, and this is an amazing album that should be played end to end without interruption.

* -

No you won't, so don't listen to that self-defeating part of your brain. Life gets better. Because it's always the darkest right before the dawn...