Another review? Yeah, that's right. I told you that we don't stop.

I'm really pleased to have listened to this album over the last week; musically it's the most sophisticated of their career and one of my favorite bands over the last few. Allow me to present...
The Mountain Goats -

Heretic Pride (released February 19th, 2008; 4AD Records)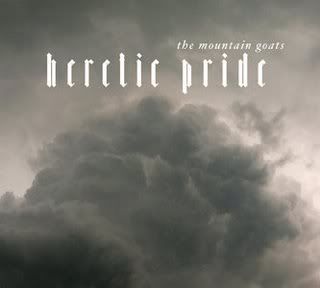 John Darnielle

has written and released fifteen albums since 1991, largely on his own- meaning that most of the

Goats

' releases are just solo recordings into his trusty Panasonic RX-FT500 boombox. You can't get much more lo-fi than that. So until he started gathering a loyal following, everything was done on the boombox, with just a few songs done on a 4-track. Not until 2002's

Tallahassee

did success come in the form of a record deal with

4AD

as

Darnielle

worked on that album with a full band in an actual studio.
The urgency from his earlier work is still here, witnessed in his amazing lyricism. That's how his last offering,

Get Lonely

, garnered him an honorable mention in my best-of list from '06, and the immediacy of

All Hail West Texas

makes it one of my favorite albums ever. I love concept albums, as

Darnielle

explains right on the cover of the record that it's "fourteen songs about seven people, two houses, a motorcycle, and a locked treatment facility for adolescent boys".


A master story teller in his own right,
he
paints such an accurate landscape of the human condition it's kind of unsettling. He's told me bits and pieces of my own story, wrapped in the silk of gorgeous pop melodies.
When speaking of excellent American lyricists of the last ten years or so, there's a few obvious mentions* and for the uninitiated, there's

John Darnielle

.


On the opening track of Heretic Pride,

Sax Rohmer #1

,

Darnielle

creates an impending sense of loss with the imagery of broken bricks, fallen sign posts, hawks circling over rabbits, and capsized ships at sea. H
owever,
h
e is saved by the calming reassurance to the subject of his admiration through the lines:

"I am coming home to you, with my own blood in my mouth, I am coming home to you, if it's the last thing I ever do..."


San Bernardino

has a lovely
string arrangement, and relates a story of bringing a new child into a couple's world, as the last lines of the song is the child reading the highway sign into town and saying

"San Bernardino welcomes you..."

Looking deeper into that meaning, I'm thinking that this may be either a tale of adoption or abduction. Ambiguity allows the listener to make up their own meaning, and songwriters who leave their ideas as open-ended as possible employ a certain enigmatic appeal that draws me in and holds my attention hostage. Which is a really good thing.

The title track chronicles a mob pulling the narrator from his house and dragging him down the street for a moment of reckoning, a trial by fire if you will. It's as if this description relates the events of

The Spanish Inquisition

, where mob justice reigned supreme and heretics were burned at the stake in the name of God. Yet the narrator feels a sense of pride, laughing at the faces which are about to kill him, knowing some great secret that only death can reveal.


There's always going to be that one song from every album that speaks to me above all the others, and

Autoclave

is the one that gets me here on

Heretic Pride

. An autoclave is basically a pressure cooker used to heat substances above their boiling point, as

Darnielle

compares his heart to that heavy vessel.

"When I try to open up to you I get completely lost/
Houses swallowed by the earth, windows thick with frost/ And I reach deep down within, but the pathways twist and turn/ and there's no light anywhere, and nothing left to burn/ And I am this great, unstable mass of blood and foam/ And no emotion that's worth having could call my heart its home/ My heart's an autoclave..."


Giving a voice to the voiceless, namely the witches of Salem, Massachusettes in the 1690s,

The Mountain Goats

slip into a groove replete with church organs over a reggae beat as

John

recounts the legend of the infamous

Witch Trials

. Told from the male point of view, his lover burned at the stake for her alleged witchcraft practices, he lays down by the water and remembers their days together, especially their days before coming to the New World. It's a sad song, depicting the madness of the Puritan congregation and the wreckage left behind.

If I could take a moment to interject a personal point of view; this record is forcing me to think about how these types of attacks on so-called heresies still take place today, shrouded in paranoid activities like the

McCarthy

hearings of the 1950s and

The Patriot Act

of today, which are reckless,
demagogic
public attack
s made with unsubstantiated accusations, as well as personal attacks on the character or patriotism of political opponents not on the side of right-winged douchebags leading us into and endless war on terror. If anything has ever been learned about forcing a doctrine of supposed morality onto the masses, it's that we're really being led into a cultural decay of sorts, going around the world and exporting
our agenda
onto other nations when it's not even clear what our agenda actually is.

It's time for a change.

Back to the album review. The next track is very cryptic-

So Desperate

; a plea made in an Episcopalian churchyard out of desperation.

In The Craters On The Moon

, possibly the retelling of

Galileo

's controversial theory that the Earth revolves around the sun, as the Catholic church ordered him under house arrest for the last nine years of his life, eventually going blind. And

Lovecraft In Brooklyn

, the lone "rocker" on the album,

chronicles famed science-fiction writer

H.P. Lovecraft

's tumultuous time in the Red Hook section of Brooklyn, where he was unable to find any work due to the large immigrant population eventually driving him insane with racism and causing him to flee back to Rhode Island.

Master storyteller that he is,

Mr. Darnielle

narrates the legend of

Tianchi Lake

, or Heaven Lake, situated on the border of China and North Korea. Myth has it that several large lake monsters dwell within the deep of the water, and the song is an account of how the masses flock to the lake in an almost reverent fashion, waiting for the monster to arrive and offering gifts and prayers to the Nessie of eastern Asia.

Ever see that 80s flick

Splash

with

Tom Hanks

and

Daryl Hannah

?

How To Embrace A Swamp Creature

is that movie set to words and a melody in exactly three minutes and twenty-seven seconds, told from the mermaid Madison's perspective. No mention of John Candy and Eugene Levy, however.



Darnielle

gets into the mind of a rapist on the stark and haunting

Marduk T-Shirt Men's Room Incident

, re-enacting a sexual assault in a bathroom, and trying to wash the crime off his hands;

"when I washed my hands/
I ran the water hotter than I could stand/ Half rising to a crouch/ Sinking back down to the floor/ when you're walking keep your head low/
Try to leave no traces when you go
..."
The definition of a heretic is
"anyone who does not conform to an established attitude, doctrine, or principle", and rape itself is an act of heresy, as are all sex crimes.

Experimenting again with reggae styles,
displayed
on the tune

Sept. 15th 1983

. An ode to Jamaican legend

Prince Far I

, who was shot at his home on that date in a dispute over money. Recalling the events of that fateful day,
as the ambulances
arrived
the house still smelling of onions from the dinner that

Michael James Williams

(

Prince Far I

's given name) had cooked for some friends.

"
Long dinner with some friends/ Way out way out in Portmore/ Servants of the pharaoh/ Slip in through the open door/ All business/ Bearing knives and zip-guns/ So get on the floor now/ every last one/ Every last one..."

The closer on

Heretic Pride

;

Michael Myers Resplendent

, weaves back and forth from the perspective of the actor playing him and the deeds he is to commit as the star of

Halloween

.
Comparing the first two lines of each verse, we have:

" I am ready for my close up today/ Too long I've let my self-respect stand in my way..."

and

"I spent eight hours in my make-up chair/ Waxed my chest and shaved off all my hair..."

Clearly, this is the "Hollywood

"

Michael Myers

.

Then the first two lines of the chorus:

"

But when the house goes up in flames/ No one emerges triumphantly from it..."

Two sides of the same coin, off-screen and on. It's an unmasking of an icon down to his raw self, asking will the "real" Michael Myers please stand up?
I'm all about this album, moved mostly by Darnielle's lyrical mastery and intrigued by his fictional subjects. In an interview, he was asked how he comes up with his subject matter. "Certainly the stories in the songs aren't things I've lived through, unless they involve Portland, Oregon and large amounts of alcohol, in which case they're pretty autobiographical."

In closing, I'm going to make a comparison, and it may be a bit of a stretch, but bear with me:

John Darnielle

is a latter day

Ernest Hemingway

,
making mix-tapes for our disaffected generation...
* - obviously;

Will Oldham, Colin Meloy, Jeff Tweedy,
Sam Beam, Chan Marshall, Jeff Mangum, Elliott Smith, Ben Gibbard, Matt Berninger, Craig Finn, David Berman, Bill Callahan, Britt Daniel, Sufjan Stevens, Damien Jurado, Elvis Perkins
and
Raph Cutrufello

are the folks I usually mention.