...at Bimbo's 365 Club, San Francisco, 2/29/08

with Jeffrey Lewis & The Jitters and Okay.



I'm going to be completely honest. Usually when attending a concert, I try to get there as close to when I think the headliner is playing. I don't want to sit through a shitty band, or possibly two. Last night was no exception. I'm looking at the tickets, and I'm like, "hmmmm, doors at 7, show at 8, we should get there about 8:45 or so..." Again, I don't want to sit through shitty music for one minute.

So we timed it pretty good, getting there at 8:45, but alas, how dare an opening band still be playing?

*gasp*

Not realizing there was another band on before the supporting band, I was shocked after a few minutes to learn that they didn't suck. They were actually

Okay

, from right here in the East Bay.

Then, all my dreams of making fun of the supporting band were dashed as they took the stage. They were fucking great,

Jeffrey Lewis & The Jitters

from some place called

Brooklyn

. Jeff Lewis is a master storyteller, starting their set with an ode to Ramen noodles. Yes, we've all had times in our lives when we subsisted on nothing but the rectangular packages of shrimp-flavored non-nutritional noodles, as Lewis reminded us that all the "artistes" in the Lower East Side do. Or maybe there was a time in my life when I did too, but having a few extra quarters to
also
get some day-old bagels.

Their set was excellent, and as it went on I realized that I'd heard them before. He's they guy who wrote the

Williamsburg Will Oldham Horror

, if you've never heard it, do yourself a favor and click the link on his name and listen to that now. It's pretty fucking hilarious. Lewis' set was also punctuated with his story books, as he told stories while flipping pages to his drawings to tell his stories. "The Last Time I Did Acid I Went Insane" was funny as shit, as I also haven't eaten acid in a long time and can no longer relate to Grateful Dead or Phish fans, having traded my tie-dyes and sandals in for regular clothes. I now dress like an ordinary guy, too.


I was glad we got to see both opening bands, I'm pretty sure Jeffrey Lewis is my new favorite artist.
Jeffrey Lewis & The Jitters,
rocking the crowd...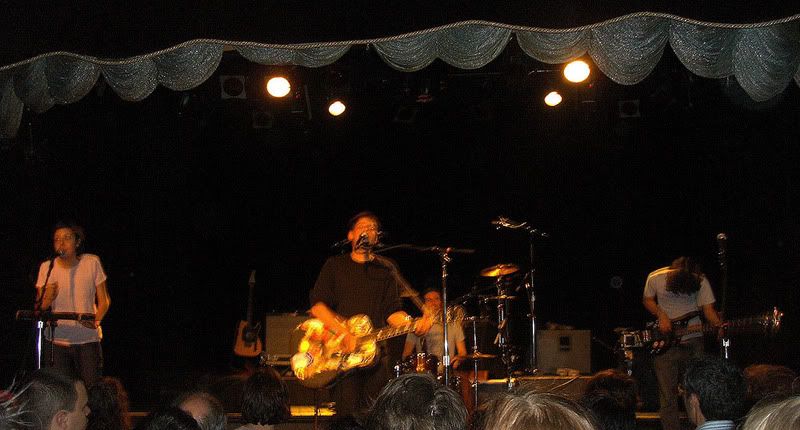 Then The Mountain Goats took the stage about 10:30. John came out, all smiles, and all the women swooned as Peter took up his bass. I swear it got warmer in there by about 10 degrees. John was wearing a death metal band T-shirt, apparently all he listens to is death metal and reggae. Imagine that, being something of an indie icon and not even listening to indie rock at all. That's why he rules.

Acoustic-based folk metal ditties
by John Darnielle...

In full swing now...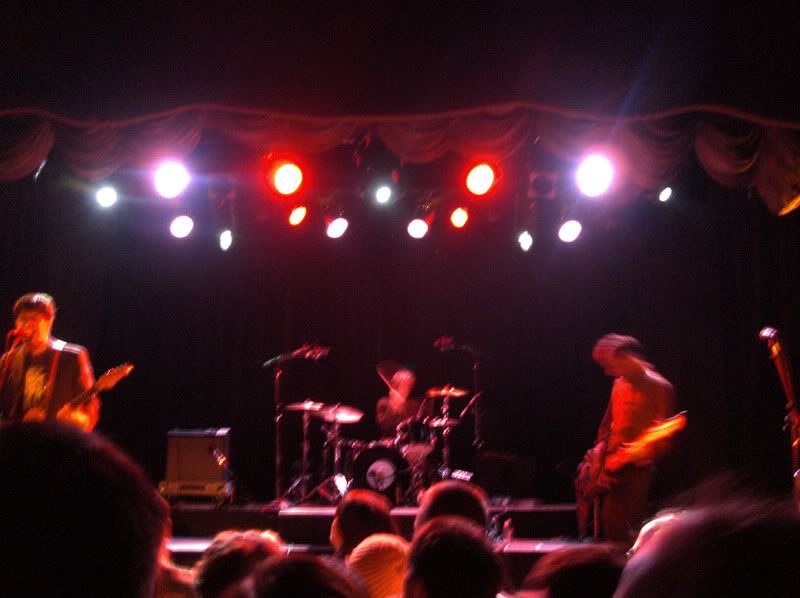 Here's a look at the setlist. They played almost the whole new album, and of course some old favorites. Not playing

The Best-Ever Death Metal Band

or

No Children

, two songs I really wanted to hear, are forgiven when you have like 456,743 songs, it's tough to play them all. And they're playing two more shows this weekend, so I'm sure the crowd at

The Independent

or the

Bottom Of The Hill

will get those jams...



Michael Myers Resplendent



Heretic Pride

You Or Your Memory

Peacocks

How To Embrace A Swamp Creature

Sinaloan Milk Snake

Marduk T-Shirt Men's Room Incident

Going To Georgia

So Desperate

Waving At You

November Love Song
In The Craters On The Moon

Sept. 15th 1983

San Bernardino

Lovecraft In Brooklyn
Encore

Dance Music

This Year

Houseguest*
Second Encore
California Song


John loving the crowd. "You guys are my favorite, and I'm not just saying that. Go on archive.org
for all the live shows on there and I'll prove it to you..."
If you aren't yet a

Mountain Goats

fan, seriously, what's wrong with you?